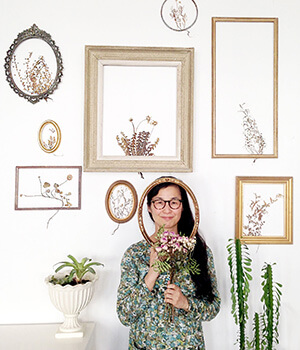 Yoko Fukushima
Born in Gumma, Japan in 1976
she currently lives and works in Paris, France

In 1997, she dropped out of university and left to France seeking life's answers in psychology and philosophy from Surrealism.

In 2002, she graduated from Versailles Art School with honours.
From then she started using Western medicine due to health problems.

Around in 2008 she started to get acquainted with alternative healing.
Through this experience, she began to get interested in the mechanism of energy flow including Eastern medicine and yoga.

In 2010, she became a mother. She also was invited in overseas artist residency programs with her baby.

In 2014, she moved to a workshop-apartment of the City of Paris and started investing into work via materials.

In 2015, facing the death of a friend, she seriously began to face the world of the invisible soul.

This has led her to the scientific realm and quantum mechanics as a means to reveal the invisible.

Her expressive medium is not limited to any genre.
福島 陽子
1976年 群馬県生まれ パリ在住

1997年シュールレアリズムを始めとした心理学、哲学に生の答えを求めて大学を中退し渡仏。

2002年ベルサイユ市立美術学校を主席で卒業。

このころより健康問題で西洋医学を転々とした末、2008年に代替医療へとたどり着く。それを機に、東洋医学やヨガを始めとしたエネルギーの流れの仕組みに興味を持ち初める。

2010年出産、一児の母。子供を連れて海外レジデンスへ参加する。

2014年 パリ市のアトリエ住宅へ移転。素材を使った創作を本格的に始める

2015年 友人の死に直面し、見えない魂の世界と真剣に向き合い始める。 
そして不可視のものを証明する手段として、科学の世界、量子力学にたどり着く。表現方法はジャンルを問わない。
---
[ Statement ]
While cycling on a gravel road leading to high school, A mysterious feeling like a flashback crossed my head.

Was "this voice" now chatting in my head about "my body" riding this bicycle?

I thought I was who I "feel, think, imagine," And I used to regard these asabsolutely eternal.

But, I know the body is going to disappear.
Does dying mean disappearing?

Well then, where will the "me", who is think this right now, be going?
Does it all suddenly disappear as if someone switched the TV off?

From the time when death first emerged into my consciousness, The colour of my world changed.

The path has just appeared.
《ステートメント》
高校までの道のりの砂利道を自転車で走っている時、フラッシュバックのような不思議な想いが頭をよぎる。

今心の中でおしゃべりを続ける"この声"は、この自転車を漕いでいる"私の体"のこと?

私はずっと"感じる私、思う私、考える私"であり、それは永遠である事を当然の様に思っていた。

でも、体はなくなる。
死ぬとは、なくなる事なのか。

じゃあ、今この事を"考えている私"はどこへ行ってしまうのだろう。
全ては、テレビのスイッチをきるみたいに、突然消えてしまうのか。 

死というものが初めて意識に浮上したその瞬間から、私の世界の色は変わった。

道の始まり。
---